In these uncertain times CMOs start discussing how a "new normal" will look like. As of today, data is too sparse to make serious predictions. But it is apparent that higher frequency and higher velocity of change will be a defining element of the new marketing normal. The disruptive arrival of digital marketing and its mechanics has been a foretaste of that. This requires a commitment to agile marketing and in particular agile resource allocation – not to be mistaken with short-termism! With this post, we would like to suggest some thought starters for CMOs on what it takes in terms of processes & tools in order to enter the new normal stronger and more resilient.
The Greek word krisís means escalation or intensification. Climate change (thankfully regaining media attention) had just started teaching us that we need to prepare for higher volatility – for the more frequent occurrence of extremes. Covid-19 teaches us that those extremes can arrive with very high velocity. Rarely before has a crisis impacted markets that fast.
In most European economies, we currently see a cautious rebound of consumer markets. Even though shops are slowly re-opening, the risks of new lock-downs or a banking collapse are still looming. Further, as consumers have just started to adapt to a muted shopping reality and as the mid-term consequences on household incomes are far from clear, it is unknown how long this "Rebounce" will take and into which "New Normal" it will evolve:
What is known so far?
Firstly, in such moments it is usually insightful to derive learnings from former crises such as the last big one: the financial crisis in 2008. McKinsey analyzed what differentiated the most resilient companies, which came out of the crisis stronger and more successful than their peers, from the rest:
Companies that thrived after past recessions "were those that kept communicating with consumers through the downturn, took a more active posture, focused on through-cycle interventions, and acted with urgency"
Another differentiating factor is whether technology is embraced: McKinsey has shown in seperate research that "those further along the digital journey are realizing 7-plus percent more revenue growth than industry peers, and nearly 6 percent more EBITDA growth". What's more: "Those applying digital and analytics tools can reduce costs by a further 5 percent".
However, the truth is that every industry is different. Different brands are impacted in different ways, and different consumer segments behave differently during the current crisis. Let's look at some examples:
FMCG sales: We probably have all seen the numbers: sales of many FMCG categories went through the roof due to stock-piling. However, some FMCG players like breweries are hit hard by the lock-down, as they lose most of their restaurant business. Producers of washing powder, on the other hand, might profit long-term from changes in washing habits, as consumers now washing their clothes more often for better disinfection.
Brand loyalty: Empty shelves, limited choice of stores and reduced purchasing power force many consumers to try out new brands. Latest data from China shows that one third of Chinese consumers have switched brands – and that 20% of that group intend to stick with the new brands they tried.
Media usage: Beyond some obvious truths like a sharp drop in Out-of-Home / Ambient Media and intensified usage of TV and Online Media, there are also big differences between consumer segments. The latest data from Global Web Index from the US and the UK shows, that the baby boomer generation (55 to 64 years) is mainly using more (linear) TV (+42% vs. pre-crisis), while millennials (24 to 37 years) are consuming 20 – 40% more of almost all media channels (especially online videos, TV streaming and music streaming):
Online sales: In a survey across 17 markets, almost half of respondents report that they are doing more online shopping. But, differences by category are large: Another analysis shows that online sales of disposable gloves and bread machines grew more than 6-fold in March 2020, while luggage, cameras and many clothes categories lost more than 50% of their sales compared to March 2019.
Marketing effectiveness: As we are updating client models (which is the only way to isolate the effects of single marketing activities such as media channels), evidence about marketing effectiveness DURING the crisis phase is still sparse. The following chart shows a high-level picture of our current understanding incorporating previous scientific evidence. The depressed promotion effectiveness and short-term media impact during the crisis seem fairly obvious. It will be interesting though to observe which impact marketing campaigns and different messaging during this time will have on long-term brand equity. However, even more relevant is probably what will happen in Phase IV and how CMOs should prepare for it: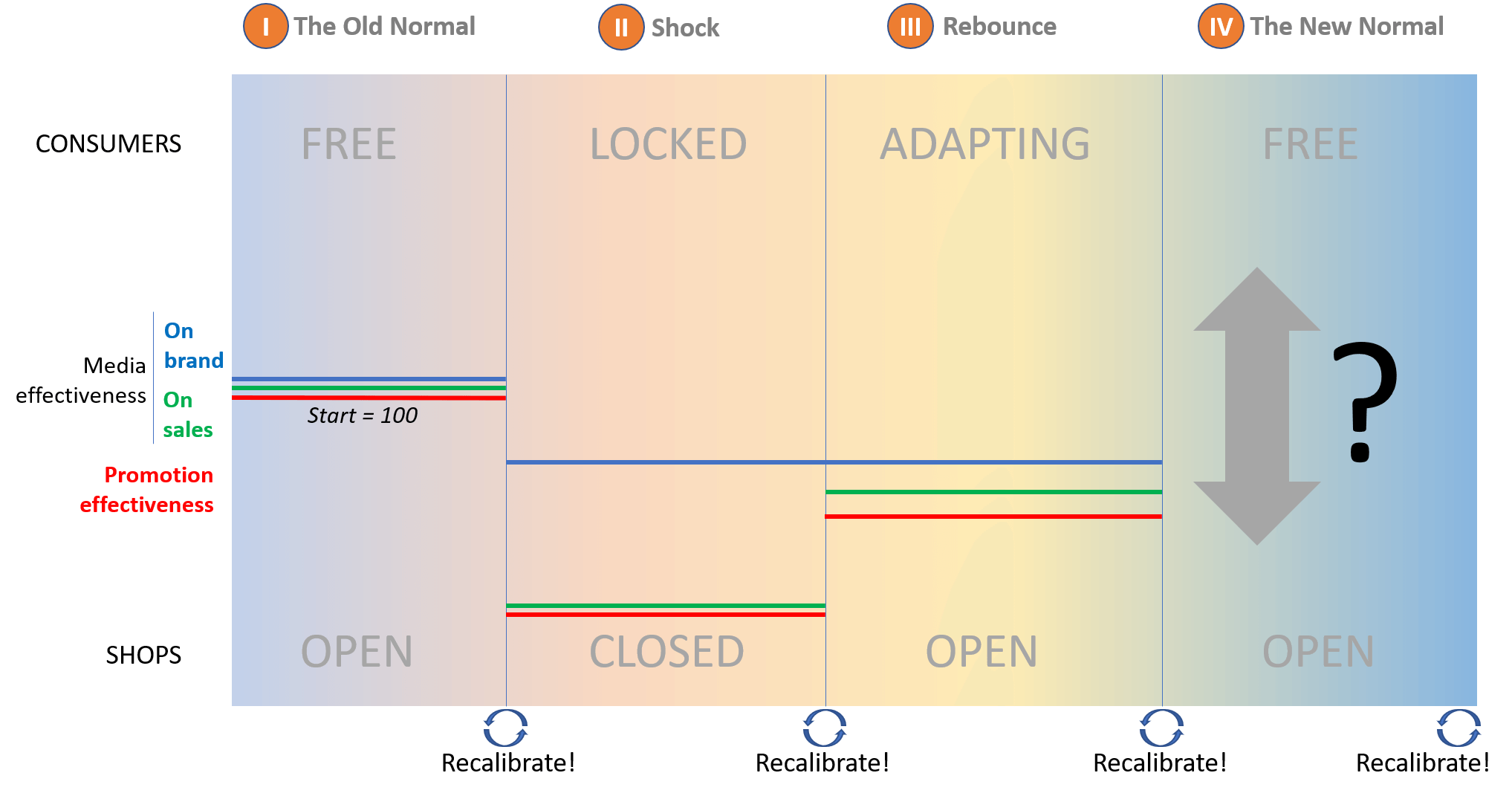 What does it take?
So, what are the no-regret moves for CMOs and Marketing Executives across industries given the very practical challenges and tough choices marketeers are currently facing?
Adopt an investor's mindset when asked to cut marketing budget to secure cash flow. As serial CMO and now McKinsey Partner Michael Betz puts it: "Immediately identify all uncommitted marketing dollars and assess where you can cut inefficient spend or reduce or defer spend. But also guard against knee jerk reductions that could result in immediate revenue loss". An important prerequisite to be able to do that, however, is to actually have a system in place that measures the ROI of each marketing activity.
Apply the principles of performance marketing to classic ATL marketing. For most companies, it is perfectly normal to optimize online spendings on a daily basis, continuously measuring click volumes and adjusting their bids based on conversion rates. Paid search and click volumes for many brands are down right now and companies re-allocate budgets from SEA to other activities. But for classic ATL media like TV or Print, most companies still rely on annual planning and measure effectiveness once a year at best. In the new normal, marketeers should be able to measure the sales impact of each TV campaign within weeks and adjust their plans in a much more agile way.
At the same time, don't ignore the long-term brand impact. While Coca-Cola radically reduced their marketing investments due to the crisis, other companies like Katjes took the opposite approach. What's right for your brand depends on the leverage your marketing spendings have on longer-term sales. Among the companies we serve, we found that e.g. TV advertising has on average an additional long-term lever of +70% on top of the short-term sales effect – but it ranges from 10% to more than 200%. In the past, crises have often been a good moment to build broad reach very cost-efficiently. Procter & Gamble has just announced to "double down" on their marketing spend as they record the strongest growth in a decade.
Stay in control of your toolkit and demand dynamic updates. In the new volatile market environment, marketeers should have all information and analyses at hand at any time to adjust their plans or even re-draw them from scratch when needed. In a disruptive situation, last year's MMM may not be worth the paper it's printed on. What marketers need are their own analytical tools with monthly model recalibration that calculate the ROI of each marketing activity and allow them to simulate totally new marketing plans based on the latest data in near real-time.
Optimize spendings across your portfolio instead of focusing on media mix only. Many marketeers focus on media channel mix when the situation changes and increased budget efficiency is required. However, both scientific research and our own analyses show, that re-allocation between brands, product categories and countries is several times more effective in increasing Marketing ROI than pure cross-media re-allocation. Most classical MMMs miss out on this huge opportunity.
The New Normal
Interestingly, there is one common denominator connecting all five points: your marketing needs to become much more agile. Let's quote Michael Betz one last time:
"COVID-19 has changed many things, but I do not believe it changes how a CMO should justify marketing investments. It's about driving short- and long-term revenue and margin. What has changed is the speed at which you need to – and the precision at which you can – show the relationship between marketing actions and revenue delivery."
Agile Marketing Budgeting requires some investment of time and money, but can yield first results after a few weeks (and rolled out within few months), when going through the following steps:
Define the portfolio across which you want to optimize marketing ROI (countries, categories, brands) and what is your optimization target (i.e. what do you usually want to maximize, e.g. value sales).
Compile frequent data on sales, detailed marketing spendings, online marketing metrics (the standard reports provided by Facebook, Google etc. are sufficient), brand KPIs (like consideration and ad awareness) plus data on a few additional factors influencing your business (in FMCG typically competitive spendings, pricing, promo shares, distribution and sampling) – ideally weekly for the past 2-3 years.
Build state-of-the-art statistical models (or have them build by a third party), that quantify the relation between marketing activities AND brand metrics AND sales, and combine them with an optimization logic that moves you from insights to decision support.
Build or contract a software allowing you to optimize and run what-if scenarios on your own desktop at any time (and giving you access to all the data mentioned above through dashboards).
Ensure at least monthly uploads of the relevant data in order to recalibrate models with the latest market information.
Train your organization to make use of the new possibilities and re-assess your marketing plan at least on a monthly basis (while performance marketing of course is still being optimized on a daily basis by the respective granular tools).
Some companies have already adopted Agile Marketing with great results, increasing their Marketing ROI by 15 to 25%. A few years from now, it will seem almost ridiculous that for so long we prepared  only annual marketing plans – based on static, annual Marketing Mix Modelling – and actually went through with them. It's high time to prepare for permanent adaption.
What do YOU think?
We would be interested to hear your thoughts as the topic is certainly evolving. Feel free to reach out: